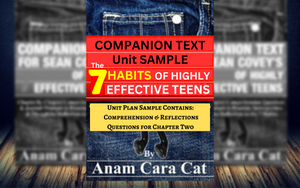 Free Sample Resource From The 7 Habits of Highly Effective Teens Unit Plan: Comprehension and Reflection Questions for Chapter Two
The 7 Habits of Highly Effective Teens
 SAMPLE resource from my 14 week unit plan. Comprehension and reflection questions for chapter two: "The Private Victory"


INCLUDED WITH THIS FREE DOWNLOAD:
33 comprehension and reflection questions to foster critical thinking related to chapter two of Sean Covey's book 

The 7 Habits of Highly Effective Teens
This 
sample resource 
offers a sneak peek into my 300+ page 14 week secondary unit plan based on Sean Covey's text 
The 7 Habits of Highly Effective Teens.

 
The 14 week unit plan includes 70 daily lesson plans designed for 90 minute class periods. Each lesson includes the related Common Core ELA Standards for reading, writing, speaking & listening for grades 9-12. 
After working with at-risk youth for 14 years, I recognized sadness, lack of vision, and lack of purpose as an absolute epidemic. I wanted to inspire, empower, and educate my kids, and these resources were created to give them the tools they needed to create new realities and brighter opportunities. Most kids don't realize—because many adults don't realize—that despite their pasts or present circumstances, they can literally rewire their brains and reshape their paradigms for happiness and success, whatever that looks like to them.
This bundle will save you—quite literally—more than 150 hours of planning and provide you with at least 14 weeks of material for a 70-90 minute class period.

This unit has been a labor of love in the making for several years as I have edited, revised, and designed it to be a resource I am proud to share with you. I've done all the reading, writing, and research for you and have watched countless videos to find the gems that perfectly align with each chapter of The 7 Habits of Highly Effective Teens.

In addition to serving as a non-fiction anchor text for Language Arts, this unit can also be used in Advisory or with any Life Skills curriculum for Career & Tech Ed classes focused on teaching social-emotional skills in society and the workplace.