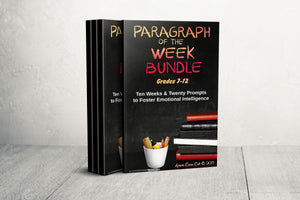 Paragraph of the Week GRADES 7, 8, 9, 10 ~ TEN WEEK Bundle ~ Social-Emotional Domain
TEN WEEKS OF INSPIRATIONAL WRITING PROMPTS
Address the social-emotional domain while strengthening your students' writing skills.
These paragraph prompts can be used as daily or weekly writing exercises and are ideal for an Advisory, Health, LA, or PSHE class. They also easily lend themselves as essay prompts, depending on your students' needs. 
In this bundle you will find:
1.TWENTY paragraph prompts (two for each topic) related to:
Integrity
Kindness
Discipline
Passion
Gratitude
Positive Thinking
Compassion
Perseverance
Courage
Goal-Oriented Mindset 
*Each prompt includes a short color-coded structure guide for reference and suggestions to help struggling writers with content and organization (can be edited out for experienced writers).
*Highlighted advanced vocabulary (can be edited out for experienced readers/writers)
2. An Editor's Checklist
3. 4-Point Paragraph Rubric
4. One Exemplar Paragraph 
5. Related Common Core Standards for Grades 7,8, + 9/10
6. Lesson plan template 
Delivered in Word format so you can easily edit for your students' needs.
27 PAGES 
Keywords: Emotional Intelligence, middle school writing prompts, high school writing prompts, Health writing prompts, character education curriculum, EQ, paragraph of the week middle school, paragraph of the week high school, daily paragraph exercise