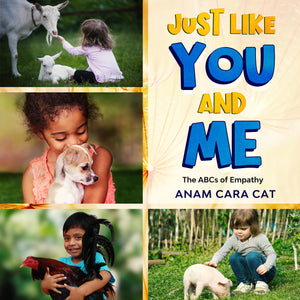 Just Like You and Me: The ABCs of Empathy Vegan-Inspired Children's Book
I'm Sold Out--But You Can Still Purchase This Book on Amazon Using the Link Below: 
Just Like You and Me is an engaging alphabet picture book written to teach empathy to young readers. While it's designed for vegan parents and vegan children, the message within is universal: In too many ways to count, animals really are just like you and me! Real photographs are used to illustrate the intrinsic parallels between animals and humans. The similarities between humans and our animal friends serve as powerful reminders that we have a responsibility to act as honorable stewards over the most vulnerable beings on Earth. Teaching our children to authentically embody empathy and justice is a priceless gift to them, the planet, and the animals.