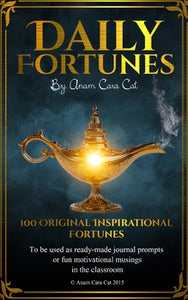 Bell Ringer | Daily Fortunes | Inspirational Quotes | Writing Prompts | Ice Breakers--GRADES 6-12
Your students will LOVE their daily fortunes!
As a secondary teacher, I've always known the key to a harmonious and productive classroom environment has everything to do with the quality of my relationships with my students. Ultimately, their success is largely dependent on the connection I cultivate with them. I've recognized an opportunity to use these fortunes to plant seeds of hope while getting to know my students better and fostering their self-awareness and growth. And, they are FUN! There are multiple ways to use these fortunes in the classroom, which I share within the bundle, and endless benefits for everyone involved. The fortunes are all positive in nature and speak to the power of optimism, gratitude, and perseverance. 
IN THIS EDITABLE Word DOCUMENT YOU WILL RECEIVE:
> 100 re-printable, original, inspirational quotes that can be used for fun as "daily fortunes," journal prompts, bell-ringers, exit tickets, or ice breaker activities
> Ideas on how to use the fortunes in the classroom
> Editable "Daily Fortune" graphics to print, cut, & paste on your chosen "fortune container" (see preview for sample images) 
HOW to USE THESE FORTUNES:
Just For Fun:
It's not necessary to spend any time or effort with these fortunes to have them be of value to your students. There were days I didn't have time or energy to do anything but let them draw one from a basket as they shuffled out the door. Without fail, I'd hear them talking among each other about how it was always exactly what they needed to hear. I knew they walked away thinking about their words of wisdom, and sometimes that in itself was enough. 
Bell Ringer/Journal Prompts/Exit Ticket:
Finding creative ways to get students thinking and writing can be tricky. As an English teacher, I'm forever looking for innovative ways to get my kids to willingly put their thoughts down on paper, and I've found that fortunes work beautifully as ready-made journal prompts. Their written responses can be completed at the beginning of every class or used as an "exit-ticket" assignment towards the end. This can be part of their daily routine or become a nice end-of-the-week activity. Students can pull a quote from a basket as they enter the classroom and then immediately begin writing their journal reflections as soon as they sit down. This assignment can last anywhere from three to fifteen minutes, depending on the schedule at hand. My instructions to students are to simply respond thoughtfully to the quote, and this may take many forms. I tell them they may agree or disagree with their fortune; they can start with, "This makes me think and feel…" or "This reminds me of…" or "I disagree with this because…" There is no right or wrong way to respond. I tell my kids that the journal is a safe-zone, a place they can share private things in whichever language they choose. The purpose, I emphasize, is to simply think, feel, and write. I also do not correct grammar or mechanics within their journals, as this allows them a bit more freedom and authenticity with their thoughts since they're not worried about being criticized in any way. I do give participation points to motivate reluctant writers. Journals can be collected and reviewed daily, weekly or whenever this fits into your schedule. I collect them on a weekly basis, or sometimes make time to read through them in class while they're working independently. I'm always surprised at how much I learn about each student that I would have otherwise never known. It's genuinely a powerful tool for communication. 
Group Discussion:
When used in a group setting, fortunes work wonders to strengthen relationships among peers and generate dynamic group discussions. Each student can pull a fortune from a basket and gather their chairs in a circle for a healthy "family discussion," as I like to call it. I have each student read his quote aloud, share his personal connection, and then we discuss it as a group. Remarkable growth and reflection takes place when the opportunity is given…
Simply print the quotes out on colored paper, cut and fold, and toss them in a basket or jar. Even the teachers can't resist sneaking a daily fortune! 
Much love,
Cat