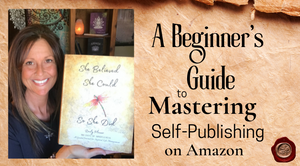 A Beginner's Guide to Mastering Self-Publishing on Amazon: How to Self-Publish on Amazon for Free FALL SPECIAL: 50% OFF FOR A LIMITED TIME!
FALL SPECIAL: 50% OFF FOR A LIMITED TIME 
Are You Ready to Become a
Self-Published Author?
Have You Always Wanted to Publish a Book?
Are You an Entrepreneur Looking to Create Another Passive Stream of Income?
You can spend years learning on your own through trial and error, or you can learn from someone who has already invested the time and energy.
My very first self-published paperback was endorsed by:
New York Times best-selling author Shawn Achor

The Colorado Department of Education

Psychologists and teachers worldwide
I share this not to impress you, but rather to impress upon you I know what I'm doing, and I can help you do it too. 
After teaching high school for more than a decade, I resigned in 2019 in order to focus on my online empire. I have since published more than 200 books on Amazon and, after many requests, have recently created a self-publishing e-course to teach other aspiring authors and entrepreneurs how to build successful careers in the self-publishing industry.
Within this course, I share 100 pages of instruction, 45 lessons, 40 + tutorial videos, and seven years of insight into the self-publishing business.  You will be guided step-by-step through the formatting, designing, and publishing process.
If you've always wanted to publish a book and/or want to be self-employed, this is your one-stop-shop to learn all the priceless tips and tricks that would take you years to learn on your own.
Visit the link below to my online self-publishing sc

hool 

to view detailed course curriculum: