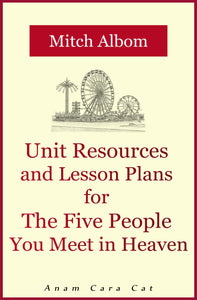 The Five People You Meet in Heaven UNIT + ALL LESSON PLANS Ten Week Unit
The Five People You Meet in Heaven Novel Unit and Lesson Plans | Ten Week Unit
INCLUDES ALL LESSON PLANS ALIGNED WITH ELA CCS GRADES 9-12! NO PLANNING FOR TEN WEEKS!
 LOOK INSIDE THIS UNIT VIA MY YOUTUBE CHANNEL HERE: 
The first eight weeks of this unit include detailed daily lesson plans for Mitch Albom's The Five People You Meet in Heaven. The last two weeks include an argumentative essay unit based on the controversial film The Secret, which is based on the law of attraction.
***You will download this unit in PDF format. I realize some teachers prefer Google Docs, so I have included a link within the PDF to the unit in Google Doc format. Please note, for copyright protection, the Google Doc version of the unit is "view only." However, I have offered the student resources and assignments (a separate 60 page doc) in an editable doc, so students can complete and submit all assignments conveniently within Google Docs.

200 Pages of Resources: 
Few novels are as engaging--especially to reluctant readers--as The Five People You Meet in Heaven by Mitch Albom. 

Students find the major themes in this novel relevant in their own lives, and in my 12 years of teaching, I have yet to have a student who hasn't enjoyed and learned from this text. 

♥ In this bundle you will receive an eight week unit for The Five People you Meet in Heaven + a two week argumentative essay unit ♥ : 
The Five People You Meet in Heaven Unit Includes:
Anticipation guide (5 group discussion prompts)
Final Exam/ Comprehensive Comprehension Questions (20 questions)
Three essay prompts with three essay structure guides with sentences stems and 
sample introductions and conclusions 
30 DOL (daily oral language) paragraphs + Teacher Key + clause handout
Three creative project choices
Five "section summary" writing prompts
Essay rubric
Summary rubric
Literary term guide (blank: students must complete after reading novel)
+ Teacher key 
Reading comprehension strategies handout 
FORTY daily lesson plans for 45 minute class periods with CC standards grades 
9-12 included on each plan

SECOND UNIT: ARGUMENTATIVE ESSAY UNIT INCLUDES: 

~ 10 detailed daily lesson plans for 70 minute class periods + CC Standards for 
grades 9-12
~ Suggested film prompt: Documentary style film: The Secret (available on NetFlix)
~ Film summary
~ Film comprehension questions (27)
~ Argumentative essay structure guide
~ Exemplar argumentative essay
~ Argumentative essay rubric

♥ ♥ ♥ BONUS OFFER ♥ ♥♥ 
Once this bundle is downloaded, you will be directed to receive your FREE eBook: Birdseed: A Guide to Teaching Emotional Intelligence in the Primary & Secondary Classroom: Daily Activity to Foster Social-Emotional Development & Personal Growth. 

Birdseed is endorsed by The Colorado Department of Education, by positive psychology guru and best-selling NY Times author Shawn Achor, and by psychologists, teachers, and students worldwide. 

Inside, you'll find a collection of THE BEST 365 inspirational quotes, (organized by theme for quick reference) along with a novel way to use them on a daily basis in any classroom to foster character development. This is an activity (referred to as "Birdseed") every secondary teacher can use to create an environment conducive to authentic learning (Have a closer peek at Birdseed in my store.). 
TEACHER REVIEWS:
Very comprehensive with detailed standards, objectives, and plans for teaching. I love the daily oral language and the facilitating idea for students. It allows them to take ownership and to be successful at working together in their small groups.
April 17, 2019


Excellent resource
April 8, 2019

KEYWORDS TO HELP YOU FIND ME: 
Book Rags, Bookrags, ELA unit, Lesson pland ELA, high school ELA Unit Plans, High Interest Novels, ESL Novel study, ELA novel study