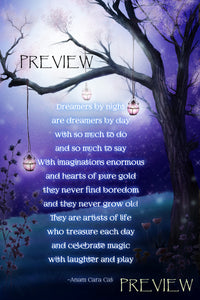 Dreamers Inspirational Printable Poster | 12 x 18 | Full Color | Printable PDF
Instant Download | Inspirational Poster | This 12 x 18 printable poster is one of my favorite labors of love!
This is the perfect poster to decorate your reading corner or to inspire your aspiring writers. Designed to print in 12 x 18 but could be printed as small as 8 x 10.
POEM READS:
Dreamers by night
are dreamers by day
with so much to do
and so much to say
With imaginations enormous
and hearts of pure gold
they never find boredom
and they never grow old
They are artists of life
who treasure each day
and celebrate magic
with laughter and play
Poem and images are copyrighted by Anam Cara Cat
Purchase is for personal use only